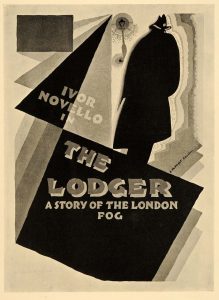 In 2004, the Kemper Museum of Contemporary Art, in Kansas City, commissioned the Doug Talley Quartet to compose and perform (live) a filmscore to Hitchcock's The Lodger.
Alfred Hitchcock once called The Lodger (1927) the first true "Hitchcock movie". In addition to being the first in which he explored his favorite theme of the innocent in danger, it also marked Hitchcock's debut before the camera in one of those celebrated fleeting cameos.
Based on the successful novel of the same name by Marie Belloc Lowndes, the plot of The Lodger is simple. A psychopathic killer, whose victims are always young blonde women, is on the loose in London. The murders occur only on Tuesday evenings. A landlady begins to wonder if her new lodger (Ivor Novello) is the murderer.
It is on this uncertainty that the suspense turns — Hitchcock's concern is not with the murders themselves, but with the observation of the characters and the way in which the story unfolds, even in the most ordinary settings. He felt that he had found his niche in the creation of suspense and tension through visual means. "Suspense," Hitchcock said, "as opposed to mystery, is giving information to an audience in order to make them worry. Whereas mystery is merely withholding information."